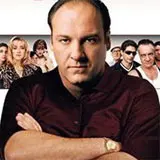 Online retailer Amazon.com has begun taking pre-orders for the first season of HBO's The Sopranos on Blu-ray Disc.
This set's existence is a marked improvement over how HBO handled the sixth and final season of The Sopranos on Blu-ray. That season was split into parts 1 and 2, each of which carrying a $100+ retail price less than this entire new season one retail price of $79.98.
Though no date is attached to the listing at Amazon, a good bet would be for season one to appear in either October or November with subsequent seasons rolling out bi-annually afterward. However HBO plays their cards, feel safe crossing The Sopranos off the list of MIA Blu-ray Disc sets.
As soon as I know more about HBO's plans to continue The Sopranos on Blu-ray, you'll know.
Click here to pre-order The Sopranos: Season One on Blu-ray for $55.99 at Amazon.com.