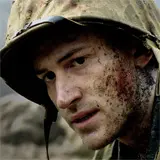 HBO is attempting to drum up some additional business and exposure for The Pacific, the new 10-part miniseries produced by Steven Spielberg and Tom Hanks who collaborated on HBO's Band of Brothers, by offering the first hour aka pilot to view for free online.
The pilot episode debuted just last night so it comes as somewhat of a surprise that HBO would dole it out online so soon. Don't get too excited. This is the only episode that will be available for free. You will need to subscribe to HBO or wait for the Blu-ray Disc and DVD release to view the other nine.
The wait for The Pacific to arrive on home video may not be as long as you might think. At the Atlanta premiere for the show, it was announced that The Pacific in its entirety would arrive on DVD (and presumably Blu-ray) Father's Day weekend (via Blu-ray.com). That would put its release date at June 15.
Further corroborating the early arrival of The Pacific are active pre-order listings on HBO's online stores for the Blu-ray ($99.98) and DVD ($79.98) editions.
So watch The Pacific's pilot now and own it on Blu-ray in three month's time. Sounds good to me!
Watch HBO's The Pacific pilot