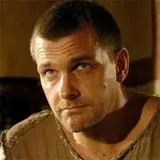 HBO shows always seem to come up in discussions regarding entertainment properties due for a Blu-ray Disc treatment. The studio has already shown support for Band of Brothers, True Blood, Generation Kill and The Sopranos. But there are so many more.
Arguably the most requested HBO series for Blu-ray are the two lone seasons of Rome. The pair would make a perfect "complete series" set which is exactly how HBO is planning to release them.
Confirmation of this strategy comes from Amazon.com who has begun taking pre-orders for Rome: The Complete Series on Blu-ray Disc and DVD. The two-season set lists for $139.99 with Amazon pricing coming in 30% less at $97.99.
The anticipated timeframe for Rome: The Complete Series to arrive on Blu-ray is around October. Also, Amazon has published packaging art for the DVD edition which you can view below. The Blu-ray Disc packaging will likely be identical with a partial sleeve denoting Blu-ray slipped over it.
A precise release date, disc specs, supplemental features and high-res box art for Rome: The Complete Series on Blu-ray will be shared once available.
Click here to pre-order Rome: The Complete Series on Blu-ray at Amazon.com.