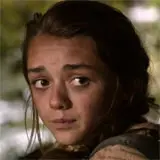 Tonight HBO's Luck will deliver a little more than the new drama from David Milch and Michael Mann starring Nick Nolte, Dustin Hoffman and Dennis Farina when it premieres tonight on HBO. It'll bring a little taste of winter and a touch of summer, too.
Roughly two minutes before Luck premieres on HBO tonight, a new "graphic" teaser for True Blood: Season 5 will debut. This teaser will mark the first bit sighting of any kind of promotion for True Blood: Season 5. Cross your fingers for something juicy. Or better yet, something Russell.
Right after the True Blood teaser, a brand-new teaser for the second season of Game of Thrones will make an entrance. Game of Thrones is only a couple months away from premiering on April 1, so I'd expect a full minute jam-packed with new footage.
That's 8:58pm EST/PST when the fun starts, so be sure to set those DVR's appropriately, else miss a potentially excellent few seconds of "Winter Coming" and "Summer Heating Up" a little early. In the event you do miss the 120 seconds of fun, we'll be publishing both teasers online shortly after their premiere.
Source: Zap2It