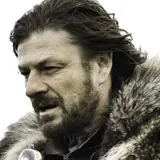 The first teaser look at HBO's Game of Thrones has been released and shows so little yet holds so much promise.
Game of Thrones stars uber badass Sean Bean as Eddard Stark, the Lord of Winterfell. The tagline "Winter is Coming" refers to a world where seasons can last years rather than months as evidenced in the Winterfell name.
Production of Game of Thrones is scheduled to begin this summer with a spring or summer 2011 premiere.