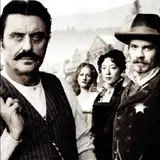 Blu-ray has made a triumphant return to Amazon's Gold Box Deal of the Day in the form of a short-lived but outstanding dramatic series.
Today today only, Amazon is selling HBO's Deadwood: The Complete Series on Blu-ray for $85.49 or 59% off the $209.98 list price. They are also selling the DVD version for $61.99 or the same 59% off. Either way it's a great deal for a killer box set of Deadwood goodness.
The Deadwood Blu-ray set starring Timothy Olyphant, Ian McShane (Pirates of the Caribbean: On Stranger Tides) and Brad Dourif spans a whopping 13 discs and covers 2140 hours of wild west entertainment. It was first released not too long ago on November 23, 2010.
Click here to buy Deadwood: The Complete Series on Blu-ray or DVD for 59% off at Amazon.