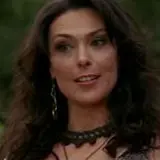 With only three episodes left, HBO is offering up a short preview of what's to come in the 22nd episode of True Blood.
The official synopsis for episode 22 reads, "Sookie, Bill and Jason return to a Bon Temps turned upside down by Maryann." As you'll see in the preview, she really did a number on the place.
Watch the episode 22 preview and a recap of last night's episode over at the official HBO True Blood website. Episode 22 will debut next Sunday night.