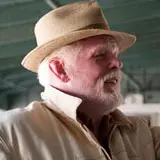 HBO wasted no time in renewing Luck for a second season, less than two days removed from its second premiere (the first was a sneak preview held in December following the Season 2 finale of Boardwalk Empire) on Sunday night.
Through three total airings this past Sunday evening, the new horse racing drama from Michael Mann and David Milch (Deadwood) attracted 3.3 million total viewers. The initial airing at 9pm drew just 1 million viewers, about the same amount as the sneak preview drew last month. The second episode's ratings this upcoming Sunday will paint a much clearer picture of Luck's weekly audience.
The Season 2 Luck order is slated for ten episodes, one more than the current season's nine. Work on the scripts was already underway with production slated to commence in roughly a month. The tight schedule is required in order to take advantage of downtime at Santa Anita racetrack where the series is filmed.
Luck stars Nick Nolte and Dustin Hoffman in an examination of the world of horse racing, from the jockeys to the trainers, to the owners and the gamblers that feed their addiction. It airs Sundays on HBO.
View a preview of the Luck series premiere with photos and videos including clips, characater bios and more.
Source: HBO, Deadline