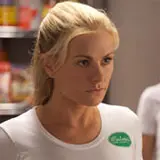 HBO has ordered up an additional season of Sunday night summer fixture True Blood and Aaron Sorkin's new drama The Newsroom.
True Blood earns what will be its sixth season in 2013 for another 12 episodes of vampires, werewolves and other supernatural beings engaging in fluffy drama and gratuitous gore and sex. Season 5 is currently averaging around 5.2 million viewers per episode thus far, a sharp drop from the 6.2 million viewers averaged in Season 4. Despite the ratings drop and our critical assessment of Season 5, True Blood remains the most watched cable show on Sunday evenings.
Season 6 of True Blood will be the first without creator and showrunner Alan Ball calling the shots. Nurse Jackie's Mark Hudis will be taking over the reigns which could mark a tonal shift in the increasingly fruity storylines. The show could also use a cast trimming for Season 6 considering HBO's press release today announcing the renewal included a cast list of regulars totaling 22 actors and actresses.
Aaron Sorkin's The Newsroom was met with mixed critical reactions but still managed a healthy 2.1 million viewers in its premiere. That's the third best series debut behind Game of Thrones and Boardwalk Empire.
Starring Jeff Daniels, Emily Mortimer, Jane Fonda and a robust ensemble cast, The Newsroom is Sorkin's first dabble in cable television after making his mark on the networks with The West Wing, Sports Night and Studio 60 on the Sunset Strip. He also wrote The Social Network film for David Fincher and is also writing a biographical film of Steve Jobs.