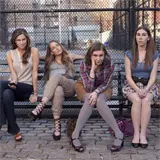 HBO's new Lena Dunham comedy series Girls starring Dunham, Allison Williams and Jemima Kirke, premiered Sunday evening to mediocre ratings for the cable network. Game of Thrones continued to show strength in its third episode of the new season with no signs of letting up.
Girls, from producer Judd Apatow and considered by many to be a younger version of Sex and the City, attracted 1.1 million viewers for its big opening night from two airings. Those numbers topped the canceled Bored to Death ratings, but are substantially lower than the 1.6 million lead-in Eastbound & Down put up.
Whether Girls picks up steam in its second episode could be affected by HBO offering the pilot for free to non-subscribers. If word-of-mouth is positive, more viewers could tune in to see where the young urban girls go next.
If Girls ratings tail off, fingers should not be pointed toward a lack of publicity. HBO has been heavily promoting the series premiere over the past several weeks, and media outlets have been running hard with stories.
Game of Thrones continues to be a powerhouse for HBO, scoring a total of 4.5 million viewers across its two showings. That's right in line with the previous episode, great news for HBO after they renewed the series for Season 3 roughly a week ago. Since the Season 2 premiere, Game of Thrones has only shed a couple percentage points worth of viewers.
We'll have our latest Game of Thrones episode review up shortly, as well as AMC's Mad Men.