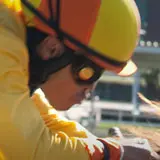 HBO used tonight's Boardwalk Empire season 2 premiere to tease a star-studded new series coming to the pay network in 2012.
The 47-second teaser trailer is for Luck, built around the world of horse racing from those who watch, those who participate, and those who look to profit from it. Theatrical stars Nick Nolte and Dustin Hoffman headline the cast that also includes Gary Stevens and Tom Payne.
Deadwood creator David Milch and famed director Michael Mann are co-running the show. Mann directed the pilot and has control over the look and feel of the show, while Milch is said to have final say on the scripts.
Luck will debut sometime in 2012, most likely in the first half of the year considering the first season is already in the bag.