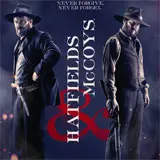 Hatfields and McCoys starring Kevin Costner and Bill Paxton earned History channel a cable record with its Part 1 debut, and Sony Pictures Home Entertainment rode its success into a quick Blu-ray and DVD release announcement.
Part 1 of the three-part Hatfields and McCoys premiered Monday night on History channel and drew a whopping 13.9 million viewers. Just like that, History Channel can now brag to owning the number one best-performing non-sports telecast to every air in ad supported cable television.
Of the 13.9 million viewers to tuned in to watch Hatfields and McCoys, 4.8 million came from the advertiser friendly 18-49 crowd. After a second airing later in the night, a total of 17 million viewers watched Kevin Costner and Bill Paxton feud.
With History hitting a grand slam on its first scripted historical drama, their executives are probably scrambling to line up multiple follow-up efforts to strike while the iron is hot. The best part is tonight's finale could top the ratings numbers put up by part 1 as critical and fan reviews has been overwhelmingly positive and word-of-mouth spreads.
Before History assembles another scripted historical drama miniseries, you'll have a chance to own Hatfields and McCoys on Blu-ray or DVD courtesy of Sony Pictures Home Entertainment. Almost immediately following the big ratings numbers today, Sony issued a press release announcing Blu-ray and DVD versions of Hatfields and McCoys will be ready to take home on July 31.
Both versions of Hatfields and McCoys will include a pair of bonus features: The Making of Hatfields & McCoys, and "I Know These Hills" music video featuring Kevin Costner and Modern West. The Blu-ray version will be presented in 1080p video and 5.1 DTS-HD Master Audio, offering a cleaner presentation than what aired on HD television.
Click here to pre-order Hatfields and McCoys on Blu-ray for $39.19 at Amazon.com, 30% off the $55.99 list price.