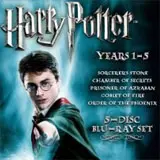 At midnight last night, Harry Potter and the Half-Blood Prince began its assault on cinemas to sellout theaters around the country.
To commemorate the official Harry Potter launch day, online retailer Amazon.com is tapping into the boy wizard's world for a one day only deal hard to pass up. In fact, I'll be taking advantage of it myself.
The deal sees the price of the Harry Potter: Years 1-5 Blu-ray Disc Box set lowered to a mere $56.99. To put that price in perspective, if you were to pick up this set you would be acquiring all five previous Harry Potter films in high definition for just over $10 per film.
There is a slim chance stock might run out before the day is over. To secure your Harry Potter Blu-ray box set at Amazon before that happens, click here.