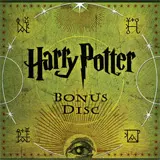 Sales of Warner's impressive Harry Potter Wizard's Collection on Blu-ray and DVD combo have soared at online retailer Amazon.com this morning following the big news announcement that J.K. Rowling is writing a Potter-spinoff film set in the same world.
As news of the Potter-universe revival via new adventures surrounding the author of Fantastic Beasts and Where to Find Them spread like wildfire, Potter faithful rushed to Amazon to scoop up the lavish Blu-ray and DVD set while it was still in stock – despite a price tag north of $300. All that cash gives the set's new owners every Harry Potter film in their Ultimate Edition Blu-ray and DVD releases spanning 31 discs total, packaged in a collectible chest. It's impressive to say the least.
At the time of this post, the Harry Potter Wizard's Collection have vaulted up to the number 12 position on Amazon's Blu-ray bestsellers chart, passing Now You See Me, which has been a hot seller over the past couple weeks. It had been as high as the ninth position within a couple hours of the movie announcement and J.K. Rowling penning the screenplay.
Scope out or buy the Harry Potter Wizard's Collection on Blu-ray and DVD combo at Amazon.