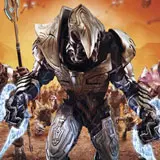 Earlier this week, Microsoft Game Studios finally narrowed down the release window for Halo Wars on Xbox 360 by announcing a February 2009 release time frame.
Thanks to a fresh retailer listing, we can now confirm Halo Wars is scheduled for February 28 in both the standard and Limited Edition packages. Nothing like waiting until the last day of the month to get out all the bugs, huh?
When Halo Wars Limited Edition active pre-orders began on Amazon.com just a few hours ago, it immediately became the fastest mover in terms of sales on the site, jumping from no ranking to 321 for all of videogames. By early next week, if not earlier, we fully expect to see it in the top 20 or better.
The Limited Edition is priced at $79.99 and will include a slew of bonus features as outlined below.
Three New Halo 3 Multiplayer Maps – Be one of the first to experience the Mythic Map Pack from Bungie which includes three new maps, Assembly, Orbital and Sandbox
Halo Wars: Genesis – a beautiful graphic novel by Phil Noto, Graeme Devine and Eric Nylund chronicling the first military campaign against the Covenant. The novel centers around the Sprit of Fire on a mission to discover why the Covenant are so interested in the world of Harvest
Unique In-game Vehicle – "Honor Guard" Wraith
Six Leader Cards – Leaders possess elite skills which can turn the tides of battle
Spirit of Fire Patch – Start the journey as an official Spirit of Fire crew member
You can lock in your pre-order of Halo Wars at Amazon.com by clicking here.