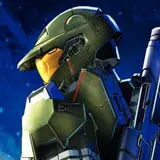 Warner Home Video has announced the new Halo anime project Halo Legends that was unveiled at Comic-Con this past summer is coming to Blu-ray Disc and DVD on February 9.
Halo Legends on Blu-ray will come to life in 1080p video and 5.1 lossy Dolby Digital audio.
Bonus features will include The Making of Halo Legends; Halo: Gaming Evolved; Halo: The Story So Far which covers the Halo universe time line of events through Halo 3; and commentary tracks from Frank O'Connor and Joseph Chou on each episode.
The official synopsis is as follows: This 8 episode anthology of 10-15 minute length each, explores the origin and historical events of the HALO universe, and various characters inhabiting the world. Like Animatrix and Batman Gotham Knight, each of the 8 episodes will be created by a separate prominent Japanese anime producer.
Check back regularly for the addition of Halo Legends pre-order information from Amazon.com. Suggest retail pricing for the Blu-ray version is set at $34.99 which should bring actual retail pricing in around $25.