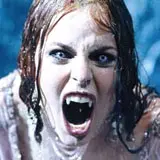 Stephen Sommers' Van Helsing is long forgotten (and rightfully so), but Universal apparently hasn't given up on the vampire hunter just yet.
Pajiba is reporting that Universal is in development on another Van Helsing movie. It will not be a remake or sequel of the Sommers' flick. In fact, the comparisons end at the film's sharing the title character's name and penchant for killing vampires.
Universal is developing Van Helsing at Guillermo del Toro's production company. The former director of The Hobbit is said to be creating a treatment for the film and will hand said treatment off to a screenwriter. No word yet on whether del Toro will step behind the camera, but he sure seems like the perfect man for the job, doesn't he?