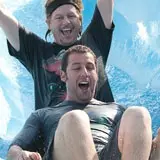 Grown Ups starring Adam Sandler, Kevin James, Chris Rock, David Spade, Rob Schneider and Salma Hayek will be looking for additional laughs when it debuts on Blu-ray Disc and DVD on November 9.
Sony's comedy version of The Expendables topped $218 million at the worldwide box office from late June through July despite being stomped on by critics.
On Blu-ray, Grown Ups will come in a single-disc package and a two-disc combo set with the DVD version packed in. Disc specs are 1.85:1 1080p video, 5.1 DTS-HD Master Audio, and the following bonus features:
movieIQ
Commentary with Director Dennis Dugan
Behind The Back Basket
Gag Reel
Riff-O-Rama
Dennis Dugan: Hands on Director
The Lost Tapes of Norm MacDonald
The Cast of Grown Ups
Busey and the Monkey
Grown Ups Blu-ray cover art and Amazon.com pre-order information will be passed along when released.