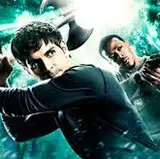 Universal Studios Home Entertainment is using the September 17 release date to co-promote the debut of NBC's Grimm: Season 2 alongside A&E's Bates Motel: Season 1 on Blu-ray and DVD.
Grimm stars David Giuntoli and Russell Hornsby as partners investigating bizarre crimes and various creatures from fairytales and lore. The show has performed well on Friday nights for NBC and has been picked up for a third season.
The Grimm: Season 2 Blu-ray edition will include all 22 episodes spanning five discs total. Each episode will be presented in 1.78:1 1080p video and 5.1 DTS-HD Master Audio. Exclusive to Blu-ray is an extended episode and interactive creature guide. The complete list of bonus features is as follows:
Grimm Guide (Blu-ray exclusive): An interactive book that provides insight into the various creatures featured in the show
Extended Episode (Blu-ray exclusive): Featuring never-before-seen footage of the episode "Over My Dead Body"
Deleted Scenes
Gag Reel
Grimm: Myths, Monsters & Legends: Learn about the ever-expanding mythology of Grimm as producers and cast discuss the richness of the show's storylines, covering this season's terrifying Wesen, the Seven Royal Families, and the mysteries of Aunt Marie's trailer
Grimm: Creatures and Chaos: Watch as the creatures of Grimm morph and wreak havoc on anyone – or anything – in their path
Bad Hair Day Webisodes: A fellow Wesen visits Rosalee's spice shop looking for a hair-loss cure in this 4-part series
Monroe's Best Moments: Revisit the quips and quibbles that makes Monroe our favorite Wesen
Click here to pre-order Grimm: Season 1 on Blu-ray for $48.99 at Amazon.com, 30% off the $69.98 list price.