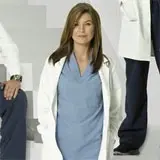 Disney and ABC have unveiled their fall lineup of TV on home video slate and it reads almost identical to last year's.
Last fall the only TV on Blu-ray Disc titles from the Mouse House were Lost and Grey's Anatomy. This fall you can expect another entry from Grey's Anatomy on September 15, the fifth season which is currently airing on ABC.
Absent from the lineup is the fifth season of Lost which comes as no surprise. Disney will likely hold that title until November or December pushing it into the winter slate.
As for Grey's Anatomy, an SRP of $69.99 has been set which is $10 more than the DVD version. No mention of seasons one, two or three coming to Blu-ray was made.
We'll pass along additional Grey's Anatomy: Season Five on Blu-ray details, cover art and Amazon pre-order information once we have it.