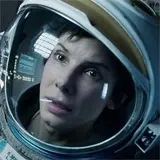 As expected, Warner Home Video capped the week by announcing a February 25 release date for Alfonso Cuaron's Gravity on Blu-ray 3D combo, Blu-ray combo and DVD.
Gravity snagged multiple Academy Award nominations only a day ago including Best Director for Cuaron, Best Film, and Best Actress for Sandra Bullock, who stars alongside George Clooney. It was also nominated for Cinematography, Original Score, Production Design, Sound Editing, Sound Mixing, and Visual Effects. To date the ambitious outer space thriller has grossed over $256 million at the domestic box office and over $675 million worldwide.
Warner Home Video is presenting Gravity on Blu-ray in 2.4:1 1080p video and 5.1 DTS-HD Master Audio. Both the Blu-ray and Blu-ray 3D editions will include an UltraViolet digital copy and the DVD version of the film. The bonus features total over three hours in length and are outlined below.
Collision Point: The Race to Clean Up Space
Aningaaq – A Short Film by Jonas Cuaron (with introduction)
Gravity Mission Control

It Began With A Story
Initial Challenges: Long Shots And Zero G
Previsualizing Gravity
The Hues of Space
Physical Weightlessness
Space Tech
Sandra and George: A Pair in Space
Final Animation
Complete Silence

Shot Breakdowns

Behind the Visor
Fire in the International Space Station
Dr. Stone's Rebirth
The Sound of Action in Space
Splashdown – Shot Breakdowns
Below you will find the Gravity Blu-ray and Blu-ray 3D cover art, as well as links to pre-order either version for a discounted price at Amazon.com.
Click here to pre-order Gravity on Blu-ray 3D combo for $29.99 at Amazon, 33% off the list price.
Click here to pre-order Gravity on Blu-ray combo for $23.99 at Amazon, 33% off the list price.