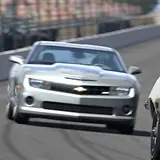 Have you been playing Gran Turismo 5 and been disappointed by the lack of damage your cars have sustained? You aren't alone. In fact, several of the first reviews for Sony's big holiday Playstation 3 exclusive knocked the game for its lack of simulation-level damage.
Now that Gran Turismo 5 has been out for close to a week, gamers have had the chance to log some serious miles and discover some of the game's additional features. In doing so they've discovered that the intensity of damage progresses the more you play and hitting level 40 unlocks full simulation damage. A video has popped up on YouTube to prove it (see below).
Reactions across the web to progressive damage have been split right down the middle. Some players are frustrated that they have to log some big hours to experience car damage, especially when the number of collisions experienced should – in theory – decrease to near zero by the time level 40 is reached.
Others, however, applaud Polyphony Digital's design as being more lenient to less-experienced drivers earlier in the game and then progressing the difficulty associated with damage as experienced is built. In other words the easier a car is for you to drive, the more you will be penalized for making a mistake.
What do you all think? Are you a fan of progressive damage or would you prefer the feature be unlocked from the first drive? If there were a cheat code to unlock damage from the start, would you enter it?