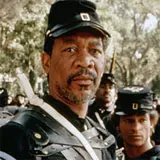 Sony Pictures Home Entertainment is bringing Glory out of its nearly two-year postponement for a Blu-ray Disc debut on June 2.
Joining Glory the same day from Sony will be two additional catalog titles on Blu-ray: Air Force One starring Harrison Ford as the Commander-in-Chief, and the giant snake thriller Anaconda starring Jennifer Lopez.
Each film will be presented in its original aspect ratio with newly encoded 1080p transfers and 5.1 Dolby TrueHD audio tracks. The only expected bonus feature is an audio commentary on Air Force One.
High-res cover art will be published as soon as they are available. In the meantime, you can pre-order Anaconda for $20.49 from Amazon.com by clicking here. Glory and Air Force One pre-orders are expected to go live within the next 24 hours.