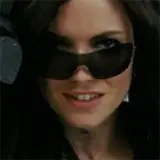 Early studio estimates on Sunday morning had G.I. Joe: The Rise of Cobra rolling around in $56.2 million from its first three days at the box office. In what could be a bad omen for the film's final box office tally, actual weekend numbers came in $1.5 million less at $54.7 million.
Missing the estimate high, coupled with an 18% drop from Friday to Saturday, could mean Rise of Cobra will be falling fast and suffer a devastating blow next weekend when it squares off against District 9.
Paramount had been hoping Rise of Cobra could follow in the footsteps of J.J. Abrams' Star Trek which increased ticket sales from Friday to Saturday and came in above studio estimates for the weekend. Word of mouth went on to push it three times past its opening weekend's dollars when all was said and done.
If the onslaught of negative critic reviews that hit Friday and Saturday had a hand in the drop, imagine had Paramount not cut off press screenings before they could inflict damage.