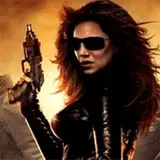 The MTV Movies Blog has shared a brief snippet from this Sunday's new GI Joe: The Rise of Cobra footage that will air during the MTV Movie Awards.
The clip is a preface to the trailer scene where a rocket slams into Paris' Eiffel Tower releasing a green goo otherwise known as nanomites onto the legendary landmark.
In the snippet we learn Storm Shadow is responsible for launching the rocket; that is, after he's offed a few security guards with shurikens alongside The Baroness. Ripcord and Duke are in pursuit wearing their power suits whose gravity-defying building scaling abilities will suspend your disbelief on dental floss.
GI Joe: The Rise of Cobra stars Marlon Wayans, Channing Tatum, Dennis Quaid, Rachel Nichols, Christopher Eccleston, Joseph Gordon Levitt, Sienna Miller, Lee Byung-Hun, Ray Park, Said Taghmaoui and Adewale Akinnuoye-Agbaje. It aims for world domination in theaters on August 7.