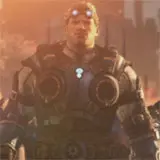 "Trust Your Guts" is the motto in the final cinematic trailer for Gears of War Judgment, the upcoming fourth installment in the franchise developed by Epic Games and People Can Fly.
This new launch trailer paints a bleak picture for the COGs and Sera after the Locust invade on Emergence Day. Not only will the COG soldiers have to fight off countless Locust invaders, but they will have to trust their instincts over the commands of their commanding officers. In case you're wondering, the music playing over the trailer is "Shooting the Moon" from the UK band Mona.
Gears of War Judgment is expected to be the final game in the franchise developed exclusively for Xbox 360. The next game, assuming there is one, would appear on Microsoft's next generation Xbox console that is expected to be formally announced by the end of April.
Microsoft is releasing Gears of War Judgment in less than two weeks from now on March 19.
Click here to secure your copy of Gears of War Judgment for Xbox 360 via a pre-order with free shipping at Amazon.com.