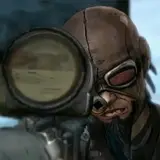 While Gearbox Software CEO Randy Pitchford was being interviewed by VG247 about Duke Nukem Forever, he either inadvertently or facetiously referenced another game his studio has been denying is in development for months.
Pitchford's exact wording about his current workload reads, "I'm sure Duke [Nukem] will have some demands of me and I've gotta work on Borderlands 2, right?"
As early as a few weeks ago Pitchford commented on Borderlands 2 Internet rumors with "What's Borderlands 2?" inferring he nor his studio has hatched the project as of yet. Those remarks now appear to have been a smokescreen put up to protect the official announcement which will come from publisher 2K Games at hopefully either GDC in a few weeks or E3 this summer, or Pitchford is deliberately pulling our strings and laughing at every news report confirming the game is in development.
Borderlands was released in October 2009 on Xbox 360, PS3 and the PC after undergoing a controversial radical change in art style. It's design taking weapons configuration "to infinity and beyond" and cell-shaded art helped set it apart from others in a crowded FPS genre.
By mid-December 2009, Borderlands reportedly had sold over 2 million copies across all platforms. Overall sales including a Game of the Year edition since release are said to have eclipsed 3 million total units.
Because of Borderlands' undeniable success, a sequel has been considered a no-brainer for the past year. Gearbox has already invested in the engine and weapons customization so their focus could be spent on improving the narrative and building upon the already robust 4-player cooperative mode from the original.
Borderlands 2 should remain propped up on the "maybe" shelf until we hear a more definitive confirmation.
Source: VG247