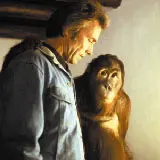 On September 2, Warner Home Video will release a pair of Clint Eastwood catalog action flicks, Gauntlet (1977) and Every Which Way But Loose (1978), along with Steven Seagal and Katherine Heigl in Under Siege 2: Dark Territory (1995), the virus thriller Outbreak (1995) and Arnold Schwarzenegger's tangle with crocodiles in Eraser (1996) on Blu-ray Disc.
Each title will likely carry the same extra features found on their respective previously released DVD versions. We'll know for certain either way in the weeks ahead once final specs are announced.
Likewise, technical specs are currently unknown at this time other than a requisite 1080p transfer. Warner's immediate influence on New Line by holding back lossless audio on Blow doesn't give us the greatest hope for lossless to appear across this wave.
| Gauntlet, Every Which Way But Loose, Under Siege 2: Dark Territory, Outbreak and Eraser will each carry an SRP of $28.99. Check back regularly for high resolution cover art, final specs and pre-order information.
Join the ongoing discussion about this new wave of Blu-ray titles in the HDR Blu-ray Forum.