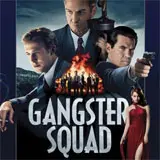 Warner Home Video has announced an April 23 release date for the Blu-ray, DVD and digital download debut of director Ruben Fleischer's Gangster Squad starring Josh Brolin, Ryan Gosling, Sean Penn, Nick Nolte, Emma Stone, Anthony Mackie, Giovanni Ribisi, Michael Pena, Robert Patrick and Mireille Enos.
Gangster Squad was originally set to premiere in late summer 2013 but was pushed back after the disturbing Aurora, Colorado shooting, with a scene that involved a theater shootout being removed from the final print. Instead Warner Bros. released the film on January 11, 2013 to mediocre reviews and a disappointing $45.7 million domestic box office haul.
The Blu-ray edition of Gangster Squad is presented in 1080p video and 5.1 DTS-HD Master Audio, and comes packaged with DVD and UltraViolet versions of the film. All of the bonus features listed below except for 'Tough Guys with Style' are exclusive to Blu-ray.
Commentary with Director Ruben Fleischer
The Gangland Files
Rogues Gallery: Mickey Cohen
Tough Guys with Style
Deleted Scenes
Gangster Squad Blu-ray cover art and Amazon's pre-order link are coming shortly.