Game of Thrones withdrawals have begun for millions of fans around the world, so it's always encouraging to see new information released about the hit HBO series, even if it's tied to events of next year. In this case that news surrounds the Game of Thrones: Season 3 Blu-ray and DVD release date, as well as a new contest that lets fans have a say in what the cover art will ultimately look like.
HBO has set February 18, 2014 as the release date for Game of Thrones: Season 3 on Blu-ray and DVD. And what an eventful season it was, which I won't discuss per the assumption that many of you probably haven't seen it yet and are waiting for the home video release before partaking in a Westeros viewing binge.
You can now pre-order Game of Thrones: Season 3 on Blu-ray and DVD combo at Amazon.com.
The box art for Game of Thrones: Season 3 is the same dragon shadow key art used extensively in the show's marketing dating back to before the Season 3 premiere first aired. It's a striking enough cover even if it's drawn entirely in shadows.
Those of you prefer a non-dragon cover will have the chance to acquire just that via the Best Buy exclusive Game of Thrones: Season 3 Blu-ray and DVD release. For the first two seasons, Best Buy has offered exclusive Game of Thrones packages featuring house sigils. That option will be available again this year, but only if it wins by a vote.
This year, Best Buy has three different design options for their exclusive Game of Thrones: Season 3 box art trios and wants fans to decide which set of three will be manufactured and released. The options are "character" editions featuring Peter Dinklage as Tyrion, Kit Harrington as Jon Snow, or Emilia Clarke as Daenerys Targaryen; sigil versions like the previous two seasons that feature Houses Tyrell, Tully or Stannis Baratheon; and "Bring Back Your Favorite Sigil" with Houses Stark or Targaryen (Season 1), or House Lannister (Season 2). I highly doubt the third option will win so it's in all likelihood a battle between the first two.
HBO is holding the vote over on the official Game of Thrones Facebook page. Head over there now to let your voice be heard.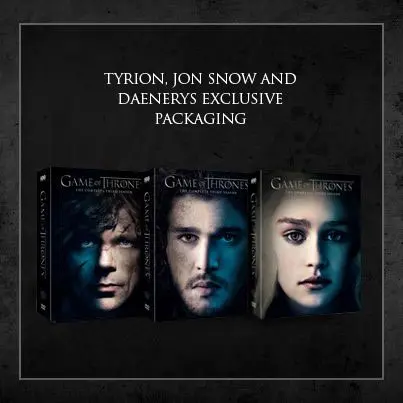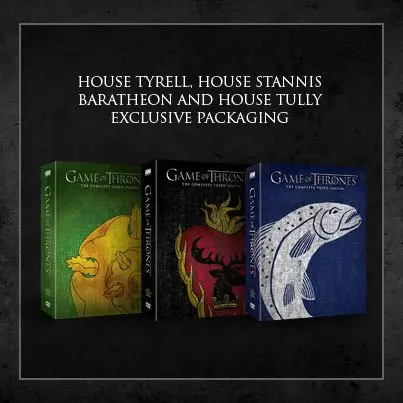 Source: MTV