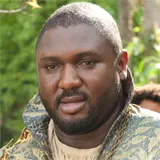 The chase for the Iron Throne lost a competitor on last night's HBO Game of Thrones episode, 'The Ghost of Harrenhal.' It didn't take long for Melisandre's "baby" to venture out from its crib and put a ghostly dagger through the heart of Renly Baratheon.
In the next episode, 'The Old Gods and the New,' it looks like the Lannisters, Night's Watch, and Daenerys Targaryen will be the focus. The Night's Watch has discovered what they believe to be the missing Wildings and their captors and, per the promo, will see some action as the two groups collide. It's about time Jon Snow had the opportunity to put his slick sword to use out in the field, especially now since he's officially been promoted to Ranger.
The Lannisters will get some more screen time next week, always fun when Tyrion is involved. It is Tyrion who orchestrated the removal of Cersei's daughter Myrcella from King's Landing, and we'll get to see the young girl's departure. If Cersei was on edge before, having to watch her daughter sail away won't help her blood pressure any.
Daenerys discovered more than she bargained for in Qarth, a quick wedding proposal from the man who saved her and her followers' lives. Now she must choose between accepting the proposal and gaining the money and manpower required to launch an attack on King's Landing. Or, stick with the advice of Jorah Mormont and take a single ship across the sea, relying on finding her army in Westeros. Judging by the promo, the young Khaleesi will ignore her adviser's advice and likely get in over her head with the wealthy people of Qarth.
It looks like Lady Stark will reunite with her son Robb, but receive grave news about the state of Winterfell. Has the Greyjoy army reached Winterfell and begun an assault? Or is the news related to Theon's attack on the port city? We won't know for certain until next week, but Bran's dream about a wave of water washing out Winterfell doesn't bode well for the Starks.
'The Old Gods and the New' will kick off the second half of Game of Thrones: Season 2 when it debuts this upcoming Sunday at 9/8c. We'll have a review up of last night's episode, 'The Ghost of Harrenhal,' in the coming days.
In the meantime, check out our Game of Thrones 'Garden of Bones' review.