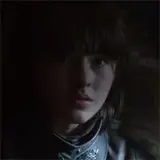 Game of Thrones took its most supernatural turn on Sunday night in episode 14 'Garden of Bones,' literally giving birth to a creature that is sure to wreak havoc for those in Westeros not align with the Lord of Light. Before that pivotal scene involving a very naked Melisandre and Davos, much happened elsewhere in the realm that sets up the events to come.
Someone finally figured out at first glance that Arya is a girl. Kudos go to Tywin Lannister for the observation, though he gets no points for not recognizing a girl traveling as a boy could possibly be the most wanted person in King's Landing. Though Arya's future seems a bit brighter with her new role as cup-bearer for Tywin at Harrenhal, the man she freed from the burning cage, Jaqen H'ghar, will come back into her life. His gratitude to Arya for saving his life isn't quite as simple as "thank you, let's be friends."
Daenerys Targaryen has been accepted into the city of Qarth where it appears she will get an extreme makeover. The chapped lips look wasn't suiting the all powerful Khaleesi, but even makeup and freshly brushed hair isn't stopping her from making demands.
Jon Snow will return this upcoming Sunday, delving deeper beyond the wall to arrive at the Fist of the First Men. With the appearance of the supernatural creature Melisandre gave birth to, are we closer to seeing some of the terrors the wall was constructed to safeguard against?
The Game of Thrones 'The Ghost Of Harrenhal' promo ends with a quick glimpse of Bran, left to govern over Winterfell and battle strange dreams that see him moving about the forest as an animal. Theon will also return this week to continue his quest to become truly Ironborn and earn acceptance from his stubborn father.
Episode 15 'The Ghost Of Harrenhal' will bring Game of Thrones to the midpoint of Season 2 when it airs this upcoming Sunday at 9/8c, hopefully with less Joffrey sharing a room with naked women.
In case you missed it, check out the first Game of Thrones trailer wonderfully reenacted with Playmobil toys.