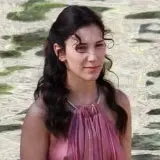 The third season of HBO's Game of Thrones has been in production for three months now and still has much work ahead of it. Yesterday marked day 90 of the shoot and an invitation for Dubrovnik press members to visit the set and score some interviews.
The scene witnessed and shared on the web features Littlefinger (Aidan Gillen), seemingly taller Sansa Stark (Sophie Turner), Ros (Esme Bianco) and Shae (Sibel Kekilli) meeting on a long pier in Dubrovnik – filling in for King's Landing. You can't hear what they are saying in the videos below, but there's some walking, talking and sitting to spot.
I have not read George R.R. Martin's A Song of Fire and Ice books, however, apparently this scene does not appear in the third book, A Storm of Swords, which the upcoming third season is based off. It's uncommon for new scenes to be written in the translation from book-to-screen, especially with precious few minutes to work with and arcs that need to be completed.
In addition to the scene, the following videos include interviews with showrunners Dan Weiss and David Benioff, and one with executive producer Frank Doelger.
Game of Thrones: Season 3 is coming on March 31, 2013.