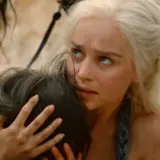 HBOGo.com premiered an all-new trailer for Game of Thrones: Season 2 last night that delivered everything that makes the show so fascinating. Unlike previous spots and teases, this one offers a first glimpse of what fans have been clamoring for.
Mythical Dragons and Direwolves will play a more integral role in the second season of Game of Thrones. One of the dragons, born in the Season 1 finale, make its first Season 2 appearance perched atop the shoulder of Daenerys Targaryen. She in turn pledges to destroy entire armies once the dragons are fully grown.
The Direwolf is seen growling as it approaches imprisoned Jaime Lannister. Like the dragons, the Direwolves have a bit of growing to do still and should become much more formidable as the season progresses.
There's much more to catch in the trailer as various families and members within families all vie to sit atop the Iron Throne. Sex, violence, spying, backstabbing, front-stabbing; this new Game of Thrones trailer has it all.
I'll update this post as soon as the trailer is released outside of HBOGo.com. If you are an HBO subscriber then head over to HBOGo.com immediately to watch the trailer.
Catch the Game of Thrones: Season 2 premiere on Sunday, April 1 as 9/8 central exclusively on HBO.