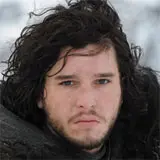 Infant dragons and journeying north of the wall are two of many highlights from tonight's Game of Thrones: Season 2 premiere 'The North Remembers' on HBO.
When we last left Westeros and the outlying lands, Daenerys Targaryen "gave birth" to three baby dragons, by fire. Though dragons have returned from their implied extinction, Daenerys will learn that raising them as their mother won't be a walk in the park, as you'll see in one of the six clips below.
Jon Snow and the Night's Watch have headed north of the wall, and in the Season 2 premiere will come across a settlement in the snow called Craster's Keep. Here they'll meet a Wildling considered an ally of the Night's Watch.
The scattered Stark children find themselves in dramatically different situations. Sansa is a prisoner of King Joffrey, betrothed to the young psychopath against her will. Arya, disguised as a boy, is on the run and in fear of her life. Rob with Lady Stark continue their war against the Lannisters, with Jaime as their prisoner.
And of course there is fan-favorite Tyrion, on his way back to King's Landing where a new powerful title awaits. Creators David Benioff and D.B. Weiss promise more of Peter Dinklage as Tyrion this season.
Below is an extensive collection of Game of Thrones: Season 2 clips, trailers, behind-the-scenes videos and stills (the stills are from episode 11 only).
The Game of Thrones: Season 2 premiere, episode 11 'The North Remembers,' premieres tonight at 9/8c on HBO and HBO Go.