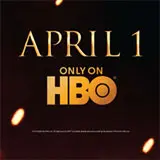 Did you know war is coming to the second season of HBO's Game of Thrones?
Maybe you did if you read George R. R. Martin's novel A Clash of Kings that will serve as the basis for Game of Thrones: Season 2. If you're like me and haven't, HBO is hammering the point home.
Check out this new teaser poster for Game of Thrones: Season 2 that declares quite simply and effectively "War is Coming." That's it; no teaser art or anything else. Just three words and the April 1 premiere date for the first of 10 upcoming new episodes.
If a poster with words isn't enough to get you worked up about the return of Game of Thrones, maybe there 17 Game of Thrones: Season 2 character images will do the trick.