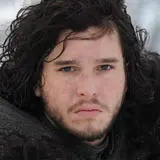 In tonight's episode of HBO's Game of Thrones, newly appointed Ranger Jon Snow will find himself stuck out in the extreme cold without any idea of where to go. At least he has some attractive company more than willing to keep him warm through the long blustery nights as he gets more than he bargained for from his first mission.
Back in Winterfell, Theon's costly sex-driven mistake will initiate a massive manhunt for Bran and his small entourage. In theory Theon's troops should be able to quickly catch Bran considering his physical limitations. Then again, Theon hasn't always made the best decisions when under intense pressure.
Daenerys, meanwhile, will have to cope with her own mistake, trusting Qarth to protect her dragons when she isn't immediately by her side. Next up for the young Khaleesi is an invitation to the House of the Undying.
Captive Jaime Lannister will return this week after scant appearance in Season 2 thus far. He will come face-to-face with a distance relative who may or may not be able to influence the "kingslayer's" release.
This is the first Game of Thrones: Season 2 episode that HBO has not released any images for. They released a trio for the previous episode a few days before it aired, but nothing this time around. We do have the promo, however, which you can watch below.
Catch Game of Thrones: Season 2 episode 17 'A Man Without Honor' tonight on HBO at 9/8c.