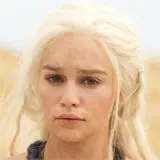 Tonight HBO will air the third episode of Game of Thrones: Season 2, bringing the season near the one-third completion mark. Like the previous two episodes, the next, 'What Is Dead May Never Die,' will expand the already lengthy list of Game of Thrones characters.
In the last episode 'The Night Lands,' Lady Stark was sent by her son, Rob, to form an alliance with King Richard's youngest brother Renly. We have yet to see Renly and his army of 100,00 strong this season, but that streak of Renly-less Sundays is about to end. We'll get to see Renly with a crown on his head and a lady by his side.
The plot has certainly thickened for Arya and her travel mate Gendry. The City Watch has tracked down Gendry, and he in turn has gotten Arya to confess her secret identity to him. Now that they have bonded as a wanted man and woman, they'll have to contend with the City Watch trying to capture them.
Up North beyond the wall, Jon Snow snooped a little too far in to Craster's business and got a knock upside the head for his abundance of curiosity. If Craster was suspicious of the Night's Watch presence in his daughter/wife factory before, he's surely been pushed too far now. A little to the south, Bran Stark will take a step toward deciphering his animalistic dreams.
Look for Theon to continue being puzzled by his place in his father's kingdom and alongside his sister, Yara. Daenerys' dusty travels will continue, and Tyrion will continue to play the "game of thrones" in King's Landing with some clever plotting.
Here are a few images from Game of Thrones: Season 2 episode 13 'What Is Dead May Never Did,' along with the short promotional spot. HBO has been stingy with clips thus far so these will have to do. Catch the new Game of Thrones episode tonight at 9/8c on HBO or HBO Go.