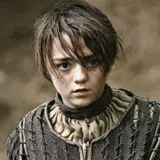 HBO has announced a February 19, 2013 release date for the second season of Game of Thrones to debut on Blu-ray and DVD. That will put it on stores roughly five weeks ahead of the Season 3 premiere scheduled for March 31.
Game of Thrones: Season 2 on Blu-ray is an HBO Select release that will also include the DVD and an UltraViolet digital copy in the same package. The 10 episodes will span five discs and each be presented in 1.78:1 1080p video and 5.1 DTS-HD Master Audio.
Bonus features that will be shared on the Blu-ray and DVD editions include:
Creating the Battle of Blackwater Bay – See how the epic Battle of Blackwater Bay was brought to life in this exclusive, in-depth, behind-the-scenes look at the climatic episode. The 30 minute feature showcases never-before-seen interviews with cast and crew.
Game of Thrones: Inner Circle – Actors Emilia Clarke, Kit Harington, Lena Headey, Michelle Fairley and Liam Cunningham talk in detail about their experiences shooting season two in this roundtable discussion moderated by executive producers David Benioff and D.B. Weiss.
The Religions of Westeros – Hear author George R.R. Martin, David Benioff and D.B. Weiss discuss the competing religions in the series and how they influence the various characters in Westeros and beyond.
Character Profiles – Profiles of seven major characters as described by the actors portraying them including Renly Baratheon, Stannis Baratheon, Robb Stark, Theon Greyjoy and more.
Audio Commentaries – 12 commentaries with cast and crew including David Benioff, D.B. Weiss, George R.R. Martin, Emilia Clarke, Peter Dinklage, Kit Harington and more.
Exclusive to Blu-ray:
War of the Five Kings – Track the claims, strategies and key players involved in the battle for the Iron Throne with this interactive guide that follows the movements of various armies detailing their victories and defeats.
Histories & Lore – 19 animated histories detailing the mythology of Westeros and Essos as told from the varying perspectives of the characters themselves and featuring, in-part, illustrations from Game of Thrones storyboard artist Will Simpson.
In-Episode Guide – In-feature resource that provides background information about on-screen characters, locations and relevant histories.
Hidden Dragon Eggs – Find the hidden dragon eggs to uncover even more never-before-seen content.
Game Click here to pre-order Game of Thrones: Season 2 on Blu-ray for $55.99 at Amazon.com, 30 percent off the $79.98 list price.