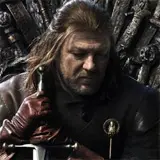 The German arm of Amazon.com has published a first look at the packaging for HBO's Game of Thrones: Season 1 on Blu-ray.
This packaging may or may not be identical to what we'll get here in the United States. It's always hard to tell, but I don't see anything out of the ordinary that would lead me to believe HBO would do anything different between territories.
Another treat the Game of Thrones: Season 1 Blu-ray packaging offers is a list of bonus features that will accompany the set. They're quite extensive with some Blu-ray exclusives, so fans should be thrilled at what's expected to come on March 20.
Blu-ray Exclusive: Complete Guide to Westeros: An interactive compendium of the noble houses and lands featured in Season One, PLUS 24 exclusive histories of the Seven Kingdoms as told by the characters themselves.
Blu-ray Exclusive: Anatomy of an Episode: An in-episode experience that explores the creative minds and colossal efforts behind episode six, "A Golden Crown".
Blu-ray Exclusive: In-Episode Guide: In-feature resource that provides background information about on-screen characters, locations, and relevant histories while each episode plays.
Blu-ray Exclusive:Hidden Dragon Eggs: Find the hidden dragon eggs to uncover even more never-before-seen content.
Making Game of Thrones: An exclusive 30-minute feature including never-before-seen footage from the set and interview from the cast and crew.
Creating the Show Open: An inside look at the creation of the Emmy-winning opening title sequence for Game of Thrones
From the Book to the Screen: Executive producers David Benioff & D.B. Weiss, and author George R.R. Martin talk about the challenge of bringing Martin's epic fantasy novel to life on HBO.
Character Profiles: Profiles of 15 major characters as described by the actors portraying them.
The Night's Watch: An in-depth look at the unique order of men who patrol and protect the Wall, a 700-foot ice structure that separates the Seven Kingdoms from the darkness beyond.
Creating the Dothraki Language: An insightful glance into the comprehensive language created for the Dothraki people in Game of Thrones.
Audio Commentaries: Seven audio commentaries with Cast and Crew including David Benioff, D.B. Weiss,
Pre-order Game of Thrones: Season 1 on Blu-ray for $54.99 at Amazon.com, 31 percent off the $79.98 list price.

click to enlarge
Source: Westeros.org