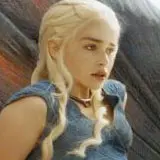 HBO's Game of Thrones premiered to huge ratings this past Sunday night, prompting HBO to super-size an order for additional Season 5 and 6 episodes reaching into next year and beyond.
A total of 6.6 million viewers tuned in Sunday night to watch the Game of Thrones Season 4 premiere at 9/8c. An additional 1.6 million viewers stopped by to catch one of two late night replays, bringing the total number of viewers to over 8 million. That's a 52 percent jump over the Season 3 preemiere and 23 percent jump over the Season 3 finale.
The Game of Thrones Season 4 premiere was the most watched piece of programming on the pay network since the 2007 series finale of The Sopranos that drew a whopping 11.9 million viewers.
HBO's order for additional episodes is a no-brainer, though picking up two addtional seasons at one time came as a bit of a surprise considering each previous season was a one-year renewal. Showrunners David Benioff and D.B. Weiss now know they have at least two more years to work with and can craft the story based on the books by George R.R. Martin accordingly.
The next episode of Game of Thrones Season 4 premieres this upcoming Sunday night.
Source: HBO