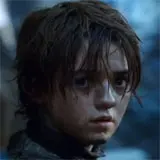 "War is Coming" to the second season of Game of Thrones, and for the first time since HBO began promoting the new upcoming season, we get a taste of that war and something else completely unexpected.
The trailer borrows bits and pieces of previously released footage and fuses it with all-new goodies like the expansive frozen lands north of the wall and Arya Stark looking like she's about ready to stick her sword in someone. There are some war snippets and blood shed, but I suspect the best of that intense footage will have to wait until it airs.
What's most surprising about this new Game of Thrones: Season 2 trailer is the use of a licensed song by HBO, specially 'Seven Devils' by War and the Machine. I think the song's lyrics thematically fits the show, but it sounds out of place because we have been conditioned to more period-appropriate tunes to carry the quest for the Iron Throne.
Regardless of the music, the trailer rocks and successfully amps up anticipation for the Season 2 premiere.
Game of Thrones: Season 2 gets underway on Sunday, April 1 on HBO. Be sure to also watch the previously released Game of Thrones: Season 2 trailer that includes a glimpse of a dragon.
Source: EW