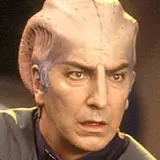 Paramount and Dreamworks Home Entertainment have announced the Star Trek spoof Galaxy Quest is coming to Blu-ray Disc on November 17 to coincide with the release of J.J. Abrams' Star Trek on Blu-ray the same day.
Galaxy Quest stars Tim Allen, Sigourney Weaver, Alan Rickman, Tony Shalhoub and Sam Rockwell in a story about former actors of a sci-fi television show who find themselves facing a real extraterrestrial threat.
The Blu-ray edition of Galaxy Quest will come in widescreen 1080p video and 5.1 Dolby TrueHD audio. Bonus features are ported from previous DVD releases with the theatrical trailer getting a bump up to HD quality video.
Galactopedia
Historical Documents: The Story of Galaxy Quest
Never Give Up. Never Surrender: The Intrepid Crew of the NSEA Protector
By Grabthar's Hammer, What Amazing Effects
Alien School – Creating the Thermian Race
Actors in Space
Sigourney Weaver Raps
Deleted Scenes (Used on 2000 release)
Thermian Audio Track
Theatrical Trailer (HD)
Click here to pre-order Galaxy Quest on Blu-ray for $20.99 at Amazon.com.