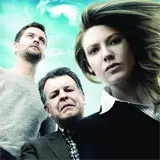 After being available for pre-order at Amazon.com for weeks, Warner Home Video has formally announced Fringe: Season One will arrive on Blu-ray and DVD September 8. This is great news for people like me who, after giving up only 2 episodes in, can get caught up since the show picked up momentum as the season progressed.
Fringe stars Anna Torv, John Noble and Joshua Jackson as colleagues investigating unusual phenomena. The Bad Robot Star Trek team of J.J. Abrams, Alex Kurtzman and Roberto Orci created the show which is known to feature a cameo or two, such as Leonard Nimoy.
Fringe's Blu-ray journey will begin presented in 1.78:1 1080p video with 5.1 Dolby Digital, identical to how Warner is offering both seasons of Terminator: The Sarah Connor Chronicles on Blu-ray.
Bonus features are relatively extensive and do include a pair of Blu-ray exclusives, one wrapped around BD-Live.
Fringe Pattern Analysis – Take a closer look at 6 select scenes from Season 1 with experts who dissect each scene with notes, photos, and diagrams. (BD exclusive)
BD-Live enabled features include Media Center, My Commentary, and commentary on Season 1 finale episode. (BD exclusive)
Evolution: The Genesis of Fringe featurette – The creators of the show discuss how the series unfolded and the qualities that make it so unique
Behind the Real Science of Fringe featurette – From teleportation to re-animation, Fringe incorporates recent discoveries in science. Consulting experts and scientists who are the authorities in their field address the areas of science which are the inspiration for the show.
A Massive Undertaking: The Making of Fringe (on select episodes) – An in-depth exploration of how select episodes came to be made: from the frozen far reaches of shooting the pilot in Toronto, to the weekly challenges of bringing episodes to air
The Casting of Fringe- The story, as told by producers and cast, of how Anna Torv, Joshua Jackson, John Noble and others came to be cast in the series.
Fringe Visual Effects featurette – Goes deep into the creation of the shared dream state with some of the biggest VFX shots of the show.
Dissected Files: Unaired Scenes
Unusual Side Effects: Gag Reel
Deciphering the Scene
Roberto Orci Production Diary
Gene the Cow montage
Three Full-Length Commentaries from writers/producers, including J.J. Abrams, Roberto Orci, Alex Kurtman, J.R. Orci, David Goodman, Bryan Burk, Akiva Goldsman and Jeff Pinkner
Warner also passed along the finalized Blu-ray cover art (which will include a slipcover) differing from the placeholder Amazon was using. You can view the final box art below.
Amazon.com is currently accepting pre-orders for Fringe on Blu-ray for $55.99. You can secure your copy by clicking here.