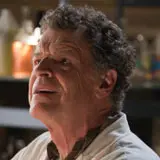 Fox's sci-fi drama Fringe starring Anna Torv, John Noble and Joshua Jackson returned for its fourth season last night and drew ratings up slightly from last season's finale. Unfortunately, that finale's ratings were down from the majority of episodes preceding it.
Fringe drew 3.5 million total viewers in the season 4 premiere episode 'Neither Here Nor There.' In the 18-49 demographic most important to advertisers, it drew a 1.5. Last season's finale numbers were 3.3 and 1.2, respectively.
When Fringe moved to its Friday timeslot last January, a move considered by many to be a kiss of death, it held strong in the ratings with 4.9 million viewers and a 1.9 in the 18-49 demo. Season 4, thus far, is well off those numbers and unlikely to improve as it moves forward given the show's complex sci-fi twisted serial storytelling that makes it hard for new viewers to latch on.
It's crazy to think that Fringe drew 9.28 million viewers for its season 1 finale and 5.68 in the 18-49 demo. Creatively the show has been on a roll, at least in my opinion. But casual fans continue to drop like flies and if the ratings drop much further, a fifth season will be in jeopardy.