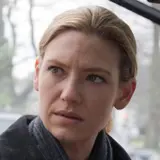 'Fringe' will wrap its third season this Friday with a promise from Fox that full episode order of season 4 is a done deal. 'The Last Sam Weiss,' which aired last Friday, gave us a huge hint of where the finale is headed. Spoiler Warnings Apply so please don't continue reading if you aren't caught up with all the 'Fringe' episodes to date.
In the last episode of 'Fringe,' Peter successfully entered the mysterious machine and found himself transported 15 years into the future. It appears he destroyed the alternate universe, but in doing so doomed his own.
The finale's title 'The Day We Died' might refer to the fate of our universe in the future. If everyone will eventually die, Peter may return to present day and find himself facing a choice: destroy the alternate universe with the knowledge that the decision will ultimately destroy both universes, or try to "create" with the machine rather than "destroy" and, I'm purely speculating here, merge the two universes into one.
Check out the latest trailer for 'The Day We Died' season finale below