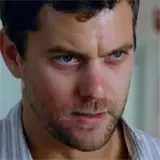 The fate of Fringe has finally been decided. Fox Broadcasting and chief Kevin Reilly are letting the J.J. Abrams series reach the all-important 100 episode plateau.
Fox has renewed Fringe starring Joshua Jackson and Anna Torv for a fifth and final season, low ratings be damned. The order was placed today for an additional 13 episodes that will bring the total number through five seasons to 100, the exact minimum required for syndication via the production studio, Warner Bros. TV.
Showrunners Jeff Pinkner and J.H. Wyman have been as in the dark regarding Fringe's fate as the rest of us. To counter the possibility of the series ending at the conclusion of Season 4, multiple endings for the final episode were filmed to match either a season or series finale. The two-part Fringe: Season 4 finale will air on Friday, May 11.
This season, Fringe has been pulling in around 3 million extremely loyal viewers per episode on Friday nights, give or take a couple hundred thousand. The 18-49 advertiser-friendly ratings have only been around a 0.9, making Fringe a money loser for Fox and Warner Bros. TV.
With the syndication mark reached, Fringe will earn back its dollars and then some in the years to come.
In looking ahead to Fringe: Season 5, Pinkner and Wyman promise an "exciting thrill ride" to bring the series to a close. Even though the renewal just came in today, Fox has already released a short promo for the final season which you can watch below.