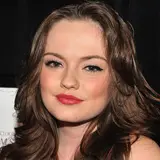 'Fringe' producers have found the actress they've been looking for to fill a role that could become a regular should Fox pick up a fourth season of the J.J. Abrams' hatched sci-fi show.
According to TV Line, Emily Meade will join the cast of 'Fringe' in the season three finale titled, 'The Day We Died.' She'll play a "wide-eyed" rookie FBI agent who joins the Fringe team in either this universe or the alternate one. Sounds a lot like the young new doctor played by Amber Tamblyn that joined 'House' a few months ago.
Meade provided sparks to HBO's 'Boardwalk Empire' in a brief two-episode stint as the girlfriend (re: prostitute) of Michael Pitt's James Darmody character. On 'Fringe,' she'll have her fingers crossed that viewers respond positively to her character and it carries forward into a regular role next season.