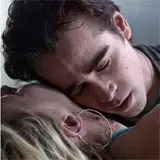 Online retailer Amazon.com has begun taking pre-orders for the remake of Fright Night starring Colin Farrell, Anton Yelchin, Toni Collette, David Tennant, Christopher Mintz-Plasse and Imogen Poots.
Currently the only Blu-ray listing for Fright Night is the Blu-ray 3D, Blu-ray, DVD and digital copy combo pack. The listing includes the cover art, though a release date or any additional information is not yet available. I'd expect Fright Night to make its home video debut in late November or December.
I'll update this article once distributor Buena Vista Home Entertainment passed along additional information.
Click here to pre-order Fright Night (2011) on Blu-ray 3D combo pack for $34.99 at Amazon.com, 30% off the $49.99 list price.