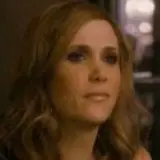 Lionsgate has dropped the first trailer for the comedy Friends With Kids that reunites Bridesmaids co-stars Kristen Wiig, Maya Rudolph and Jon Hamm.
The film, directed by and starring Jennifer Westfeldt, focuses on friends (Adam Scott and Westfeldt) who decide to have kids but date other people (Megan Fox and Edward Burns, respectively) after all their other couple friends start settling down. It doesn't take a genius to guess what happens when jealousy and emotions come into play, not to mention the kid.
Friends With Kids opens in theaters on March 9.